If you thought cleaning the DNS entries from your system was a huge task, then you were completely wrong. And if you are working on any Windows OS, this DNS cache handling thing is far more easier. Yes, we are talking about ways to flush DNS cache on Windows 7 / XP / Vista.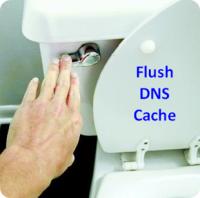 Below is the method which would help you clean / delete DNS cache on any Windows OS version like Windows 7 / XP / Vista.
FLUSH DNS CACHE ON WINDOWS 7 / XP / VISTA
Open the command prompt by entering cmd on RUN utility. There is a direct way to open command prompt, which is by clicking on its icon. But make sure that if you working on Windows 7 or Vista, you right click on command prompt program and choose the option Run as Administrator.
On the command prompt terminal, enter the below command:
ipconfig /flushdns
That is it! This would have flushed DNS cache on your Windows system. Once you are done with it, you can enter the command,
ipconfig /displaydns
The above command would let you view the DNS resolver cache, which would let you make sure that you are successful with your attempt to flush DNS cache on Windows 7 / Vista / XP.