How to restrict unwanted sites from appearing in search?, How to block websites?  These are some questions which often arise when we talk about Internet Security. Here are 5 ways to block certain websites. These method restricts access to potentially dangerous or adult content websites. In this article we discussed ways to block websites in browsers like Firefox, IE, Opera and tips for safe and secure browsing. 
How to Block Websites?
Blocking of websites can be done in many ways. These include using free software which are especially designed for this purpose. There are even many add-ons for browsers like Firefox which let you check and restrict websites. Let us look at 5 best ways to prevent malicious content from Internet..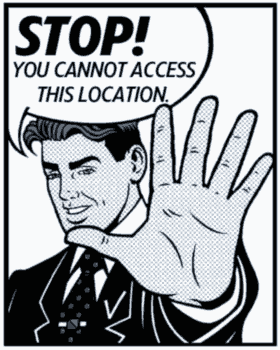 5 ways to Block / Restrict Dangerous Websites :
To protect your computer from harmful sites which contain malware, spyware, you should get a Web Security Guard. This will guard your PC from dangerous sites even though the settings are not adjusted properly. You can block or allow a website and can control all the settings.
This is available for free and will be installed as a toolbar in your browser. You can view the information about the particular site by clicking on View Website Info.
Restrict  Websites through Internet Options
If you are using Firefox, Internet Explorer, Opera or any other browser, You can easily block unwanted websites through Internet Options. In order to do that in Internet Explorer,
Click Tools > Internet Options > Security tab

Select restricted sites and Click on Sites

Type the sites you want to block and click Add

Click OK and you are done.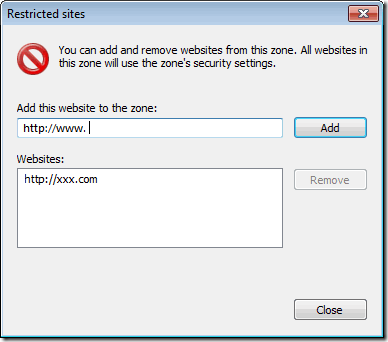 If you are using Firefox, Go to Tools > Options > Privacy > Exceptions and type the sites you want to block in the text box and click Block.
For Opera, Go to Tools > Advanced > Blocked Content.
You can even remove the Internet Options so that other may not access it to remove the blocked websites. Check out How to Remove the Internet Options tabs for Security, Connections 
If you are using Firefox Browser, you can block all unwanted websites with a simple add-on. It is called ProCon Late, a personal content filtering extension for the Firefox browser, designed to protect children from inappropriate Internet.
You can change options by going to Edit List. You can give your blocked words, blocked sites and can even import any list. There is also option to create white lists and profanity filter. Know more about this add-on from here : ProCon Latte – Personal Content Filter 
To have safe and secure Internet browsing, all you need to have is some free extensions which will check for malicious links. They will notice you If they find an attack site. 3 best additions for your browser to get better security are AVG Link Scanner, McAfee Site Advisor, My WOT
AVG Link Scanner will scan and check URLs or links for malware or spyware and will warn you if the link is dangerous. This is helpful to know about the links you are clicking and prevent bad links.
McAfee Site Advisor is used to rate websites. These ratings can be useful to know about the credibility of the website.
My WOT is a short form of Web Of Trust. This is very popular add-on which can be helpful to know Online Scam, Spyware Spam and potentially dangerous websites. 
If your computer is infected with adware, Trojans or any root kits, some unwanted websites will be opened automatically. You can avoid this by installing good Anti-Virus software. Getting a good anti-virus is the first step for the protection of your system.
Here are a list of Free Best Antivirus Software
Along with an Anti-Virus, an additional firewall will be helpful for enhanced Internet security. Zone Alarm is one of the best Firewall and it is even available for free through a promotional offer.
Free Download Zone Alarm Pro 2010 Firewall – Serial License Key
If you have any more tips to add, feel free to comment with your suggestions to block or restrict websites and achieve safe and secure browsing.