Wubi is a free tool which lets you install and uninstall Ubuntu Linux as any other Windows application, in a simple and safe way. It enables you to install Wubuntu, Kubuntu or Xubuntu using Windows. It works like every other installer. The Linux operating system can be installed on Windows virtual hard drives easily and you can boot into these Linux OS when you start your PC.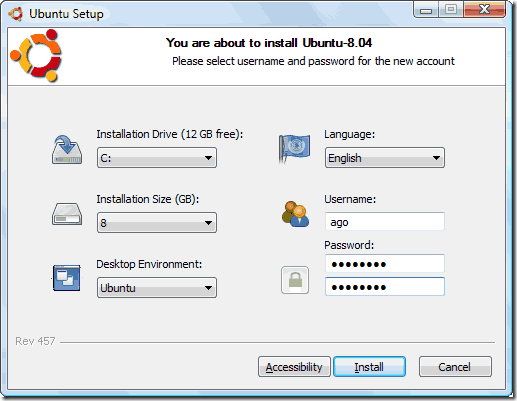 You don't need to burn it to CD. Just run the installer, enter a password for the new account, and click "Install" and your Ubuntu Linux is ready for you. It does not require you to modify the partitions of your PC, or to use a different boot loader, and does not install special drivers.
The best part about Wubi is that, if you don't like it, you can uninstall the OS just like any other software. It requires 256 MB memory, 5 GB hard disk space and it is completely free. Get Wubi -Installer to try Ubuntu Linux on your Windows PC.
Check out our Linux category for more posts on Linux like How to create your own Linux distributions