It is easy to make Yahoo! Mail into your default email site on your machine. All your automatically generated outgoing mails will be sent using Yahoo! Mail. To do this, you need Yahoo! Messenger and Internet Explorer. You can send all your emails from yahoo Mails easily and this can save you the effort of browsing to and then logging into Yahoo! every time you want a mail to be sent.
We already discussed about How to Make Gmail the Default Email handler Program for Mail To Links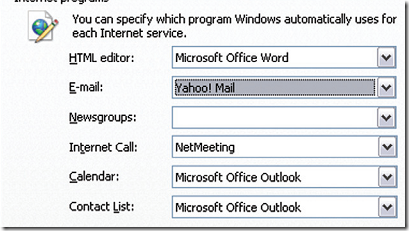 Some sites that need you to send a confirmatory mail or any other notification need to be linked to a certain email address. This by default happens to be a blank value that needs to be filled in using Outlook Express. The procedure isn't too complicated either.
Install Yahoo! Messenger in your system.

Start the Internet Explorer browser.

Click on 'Tools | Internet Options'.

Click on the 'Programs' tab.

In the Email drop down box select 'Yahoo! Mail'.

Click 'OK'.
All your mails will now be sent using your Yahoo! Mail account as the default mailer. This however is applicable only to those sites that are opened using Internet Explorer.