Seesmic Look is a real time web based desktop Twitter Client for Windows 7 OS. This makes social networking on Windows 7 a better experience.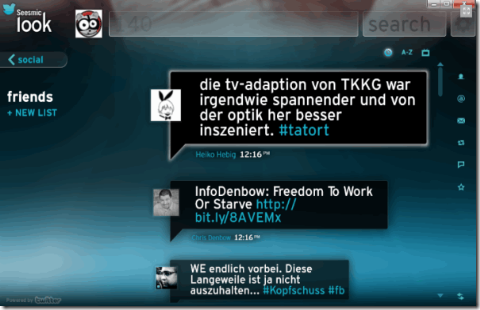 There are millions of Twitter users who love spending time with their tweets and retweets. And this desktop Twitter app lets you have an amazing time on Twitter on your Windows 7 operating system. With an easy to use interface it has every thing to offer both to beginners and experienced Twitter app users.
Below are some of the features offered by Seesmic Look:
Find accounts and view tweets that match your qualities

Simple yet powerful interface to check profiles, tweets and direct messages

Discover the trends on Twitter

Easily search a person, brand, or any other interest

Make changes in your themes

And many more
I have to say that it is one of the best and powerful Twitter apps I have ever come across. And this is the saying of many others too. Equip your Windows 7 OS with this desktop Twitter client namely and relish the ultimate social networking experience.