While the classic start menu is optionally available in Vista, Windows 7 does not have this option at all. It is thus confusing for beginners who have only used XP so far. You can convert a different start menu element to a classic start menu with a trick. This way, you can access the programs directly and easily in the good old way. To do this,
Right click on the taskbar and select 'Properties'.

Then switch over to the 'Start menu' tab and click on 'Customize'.

Now search for the 'TV recordings' element under the selection list; it is quite likely that you have not used it till now.

Enable the 'Display as menu' option in this tab and then close this dialogue box with 'OK'.

Confirm the configuration by clicking on 'Apply' and then 'OK'.
In order to carry out the further steps, ensure that hidden folders are accessible. First open Windows Explorer and then go to 'Organize > Folder and Search Options'. Search for the 'Hidden files and folders' option under 'Advanced settings' in the 'View' tab. Enable the 'Show hidden files, folders and drives' option. Confirm the change by clicking on 'Apply' and then 'OK'.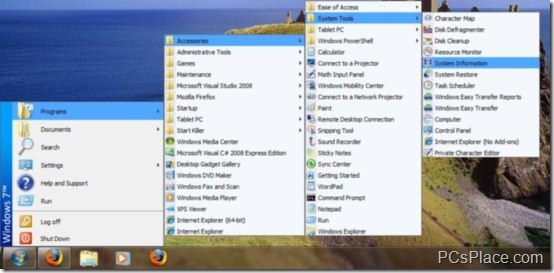 Now open the Start menu and right click on the new 'TV recordings' option.

Select the context command 'Properties'.

Select the 'Public TV recordings' in the 'Library' tab and then select 'Delete'.

Now click 'Add folder'.

In the newly opened window, navigate to 'ProgramData\Microsoft\Windows\Start menu\Programs' folder under 'Computer'. Here, do not confuse 'Program Data' with the 'Program files' folder. Then click 'Include folder'.

In the 'Optimize this library for' field, change the setting to 'General items'.

Confirm this setting with 'Apply' and then 'OK'.
Now open the start menu again and right click on the 'TV recordings' option. Select the 'Rename' context command, change the name to 'Programs' and press Enter. From now on, you will see the classic view via 'Programs' in the start menu. The only difference being: You have to navigate twice through the 'Programs' level. This small bother ensures that future changes are automatically incorporated into the new Start menu. Along with the normal old menu, you can also use the new Start Center offered by Windows 7 without any restrictions.