Taking backups of system registry is always helpful to overcome post-system crash situations. How To Backup Windows 7 System Registry? If you need the answer for this question, then this post is surely written for you.
Windows 7 is by far the best operating system developed by Microsoft. It offers so many features that enhances our work efficiency and this fact is making this operating system popular each day.
Below are the steps to Backup Windows 7 System Registry:
STEP 1: Click on the START button and then choose the SEARCH option
STEP 2: Now type regedit and hit the ENTER key
STEP 3: This will launch the Registry Editor. So, once it opens, click on the FILE option on the MAIN MENU BAR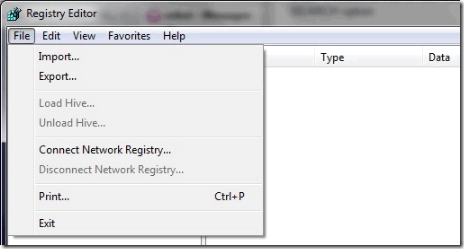 STEP 4: Now, click on the EXPORT button, which will export all your registry files
STEP 5: Make sure that you check all the radio buttons in the Export Registry File located under Export Range
STEP 6: Now, save the file with any particular name and then click on SAVE button.
That is all. Now you have taken the backup of your Windows 7 System Registry. So, you can use the same file for restoring back the system registry settings.