Sticky Notes is one of the best offerings by Windows 7. And if you have loved it too and want to have same or similar Sticky Notes for Windows XP, Vista, then you should try Stickies.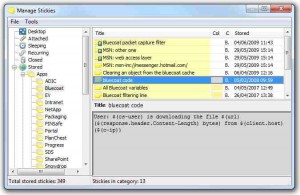 Stickies offers you with all the features on Windows XP and Vista that Sticky Notes does on Windows 7. Once you install this app on your computer, right click on the icon present in task bar and click on the option labeled as New Sticky.
This will open a new note where you could jot down any thing that you want. It also lets you change the font size, color and size.
And just like Sticky Notes on Windows 7, Stickies would still show you the same stuff that you have written before restarting the PC. So, meet your obsession for Sticky Notes on Windows XP and Vista.