You can change the start up tune of Windows XP to the tune you like. This involves a simple procedure and by doing that you can make your own start up and turn off tunes. All the sounds in Windows XP are in WAV format. So if you want to change any of the system sound you should replace it by a sound of .wav format.
The following steps will help you change the system sounds:
First pick a sound or music you like. If it is not in WAV format convert it by some audio converters like mp3 to wav converter or Total Audio Converter etc. Make sure that the length of the sound should match up the time the sound plays. here I m doing the start up tone.

After you made the sound into wav format goto > control panel > Sounds and Devices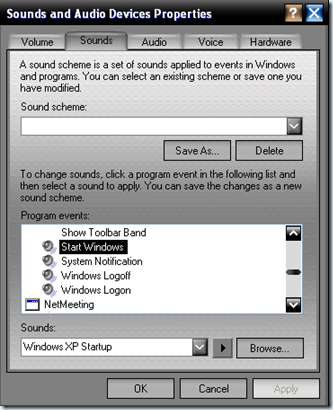 In the resultant window select SOUNDS and program events: select the desired one you want to change like

Then browse for the location of you wav file and then click Apply and OK.
That's it you are done with your own start up tune. Like this you can change every sound of Windows XP like maximise and minimise, turn off etc. But make sure that you save your sound scheme before doing this as it will provide a roll back option for you. Enjoy tweaking by putting in your favourite song as a start up tune.