Hibernate is very handy feature which helps you shutdown your computer quickly saving all the settings. You can access Hibernate by pressing [Shift] key in the shutdown menu. By this, you can toggle between Stand By and Hibernate. If you want to use Hibernate frequently and want to access it easily, here is an easy way to enable the Hibernate option directly instead  of  pressing  the Shift  key  all  the  time in the shutdown menu without any involvement from Microsoft.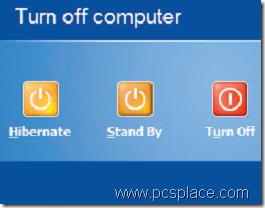 This requires a small hot fix which will integrate a button for Hibernate. You can download the hotfx for the 'Hibernate' button from here after you have registered yourself. Once registered,
Click on the 'Downloads link, then scroll down on the website, and go to 'English Windows XP Hotfix Downloads'.
Open 'Search' at the top right, look for '893056' and download the ENU EXE file.
Close all active programs on your system, install the hotfix and restart the computer.
    
You also need to activate the following function through the system registry.
Open the 'HKEY_LOCAL_MACHINE\SOFTWARE\Policies\Microsoft\WindowsSystem' key in the registry editor using 'Regedit'.
Create the 'Shutdown' sub-key with 'Edit > New > Key'.
Now create the 'ShowHibernateButton' entry here with 'Edit > New > DWORD value' and open it
with a double click.
Finally, set the value from the default '0' to '1' and confirm with 'OK'.
After you have done this, close the registry editor. Windows will now display the button for 'Hibernate' by default in the shutdown dialog along with the existing ones.