Windows updates are meant to be bug free. But this is not the case with some of the Vista updates  For example, the kb938371 patch responsible for better system management, which Vista thrust upon users, created problems with connected USB components. This problem is seen in all Vista versions.
If you facing any problem with Windows XP automatic updates and want to remove them, Check this..
Windows XP Update Remover – Uninstall & Remove Windows Updates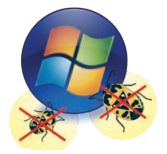 Fortunately, new updates will be available to  repair the damage caused by these flawed patches. On the subject of uninstalling it, Microsoft states, "You cannot remove this update". But there's a way to do it. To remove bugged Vista Updates from your computer..
Right click on 'Computer' and select 'Properties'.

Now click on 'Device Manager' and accept the warning of user account control.

You will see an 'Unfamiliar device > USB-HID' in the Device Manager.

Right-click on it and select 'Update driver software'.

Set 'Search for the driver software on the computer' and specify the path 'C:\Windows\winsxs' in the next dialog, provided  'C:\' is your Windows partition.

Now install the driver even if Windows complains that it is not signed.
This should resolve the problem if it was only about one device. In the case of multiple devices we suggest that you verify whether every HID component was assigned to the correct driver.