Variety is the spice of life. This also holds true for the desktop wallpaper. Windows Vista is capable of changing the wallpaper at regular intervals automatically so that you need not do it yourself. A Vista sidebar gadget can do this job for you. To do this..
Establish an Internet connection and right-click on the sidebar.

Click on 'Get more gadgets online' after selecting 'Add gadgets'.

Internet Explorer opens the 'Personalize Windows Vista Sidebar' page.

Click on Miscellaneous' in 'Browse and select the 'English' entry under 'Filter by'.

Look for the Desktop Wallpaper gadget here.

Click on 'Download', then on 'Install' in the following dialog and finally on 'Open'.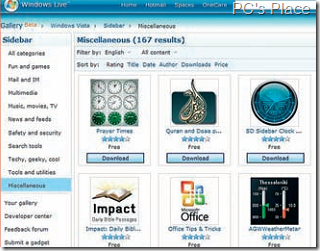 You have to authorize the action with 'Admit'. Reconfirm the following note with 'Install'. The gadget automatically appears in the sidebar after the installation and you can now close the window for adding mini applications.

Position the cursor on the new gadget and click on the screwdriver symbol.

You can specify the source folder that contains the pictures with the 'Folder' button which is near the entry field. If you want Windows to include subfolders, activate 'Include subdirectories'.

Now select the 'Preview next wallpaper' entry under 'Show each picture'. The gadget then opens a review of the next wallpaper in the sidebar and shows buttons to change the selection.

Select a transition effect for the exchange with 'Picture transition', and define the duration with 'Change desktop wallpaper'.

'Change even when the Gadget is hidden' ensures that the wallpaper changes even when the application is not in the foreground.

You can also instruct the gadget to display the pictures in a completely random order with 'Shuffle pictures'.

Finally, you can determine representation of the wallpaper picture below the properties. Confirm the configuration with 'OK'
Now your wall paper will change every time based on the time interval set by you. If you know any easy way to do this, Please leave them as comments..