Windows 8 is surely one of the hottest OS in the present day's market. With Windows 8, Microsoft is trying to develop a single answer to all the devices like computers, laptops, tablet PCs and smartphones.
Windows 8 has been released recently and its getting popular steadily. With huge sales and mammoth potential user base, one could easily expect Windows 8 to be the most successful operating system ever designed by Microsoft in terms of sales and revenue.
If you have already bought Windows 8, then you would be thrilled to know some of its top hidden features. These unknown / secret features of Windows 8 could prove to be very useful to you. I am pretty sure that you would like most of these hidden Windows 8 features.
Top 5 Hidden Features Of Windows 8
Hide Jump List Contents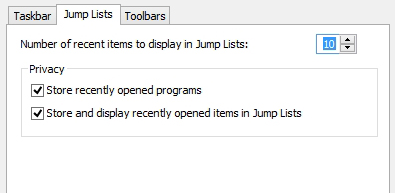 If nobody uses your computer other than you, then its a pretty handy feature. Since you won't navigate across folders while you are opening files that you do every day, a lot of your time is saved. Its like Windows 8 sees what you are doing, and offers you shortcuts itself as Recent Items. But if you do not wish to have it (whatever may be the reason), just right click on the Taskbar click on Properties and then on Jump Lists. There you can change the settings, or you can simply disable it by asking it not to save any information.
Easy Way To Take Screenshots
This feature is totally inspired from Mac. I always wondered, unlike Mac, why Windows do not let you capture a screenshot by pressing keys. But here is the brand new addition to Windows 8 which lets you take a screenshot by pressing Windows key + Print Screen on computer and Windows key + Volume Down button on a tablet PC.
Create Your Own Groups On Start Screen
By default, Windows 8 offers you some pre-defined groups. If you wish to have your own groups, all you need to do is drag and drop the application on the empty screen and that is it!  And in order to rename any group, all you need to is click on the button on the bottom right corner and then right clicking on the groups.
Get The Best Out Of Multiple Monitors
If you are using multiple monitors on Windows 8, then its immense bliss. If you wish to move your current app from right to left, you need to press Windows key + Page Up and in order to move to right, press Windows key + Page Down. Cool, right?
Run Automatic Maintenance Schedule Tasks
You can get this thing activated from Action Center. Under the Automatic Maintenance section, you can set the time as whatever you wish to. And if in case your computer is off at that time, it would take care of the maintenance activities when your machine is idle after the scheduled time. And the scheduled tasks include, software updates, security scanning, diagnostic actions.