Zamzar is an free online tool that lets you convert image, document, Compressed , music, and video files up to 100 MB in size to different formats for free. This is an easy way to convert your files into different formats without installing any software. This free online file convertor has a lot of features which makes it stand out from its competition. Here is a list of file formats it can convert..
Image Formats – bmp, dwg, dxf, gif, ico, jpg, pcx, png, tga, tiff, wbmp, wbf, wmf
Document Formats – cxv, doc, docx, odp, ods, odt, pdf, ppt, pptx, ps, pub, txt, rts, vsd, wkf, wpd, wps, xls, xlsx
Audio Formats – aac, ac3, flac, m4a, mp3, ra, ram, wma, wav, etc
Video Formats – 3g3, 3gp, avi, flv, gvi, m4v, mov, mp4, mpg, rm, rmvb, vod, wmv,
Compression Formats – 7z, tar.bz2, cab, lzh, rar, tar, tar.gzh, yz1, zip
CAD Formats – dwg, dxf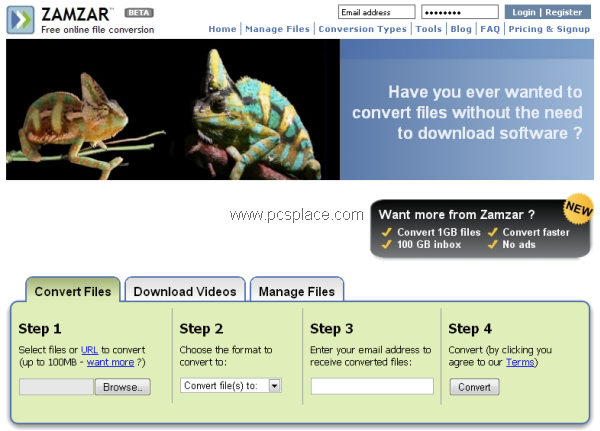 With the above list, you can see that this free online convertor is useful to make almost any type of conversion online. Zamzar can also convert YouTube videos online to your required formats. All you need is to provide the link of the video and select the file format and the video will be sent to your inbox.
The sites interface is user friendly. You can upload your files and select the file format in which you want the file to be converted to. Enter your email ID to get your converted files in your inbox.
You can sign up to be a registered user to receive extra benefits like
Get an inbox to manage your files

Convert much bigger files (up to 1 GB)

Get up to 100 GB of online file storage

Your files get converted before free users