If you are a Twitter user who wants to upload images you tweeted in TwitPic to Flickr Account, here is a great tool especially for you. It is called  TwitPickr. This simple tool lets you republish any shots you've sent to TwitPic over to your Flickr account thus integrating Flickr and TwitPic.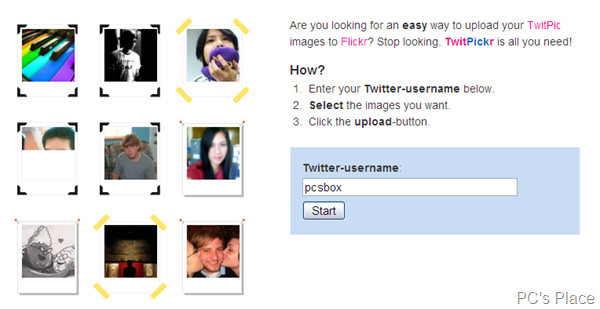 It is very easy to use as all you have to do is add in your Twitter username and click start and it pulls up all the pictures you've posted to TwitPic. Then you just check the ones you want to publish to your Flickr photo stream and it copies them over in one click. The homepage displays the Twitter users who recently used this service.
There is also an easiest way to send pics to both TwitPic and Flickr without using TwitPickr. This is done by saving your special e-mail posting address from each service, then sending the photo to both using your phone's MMS or e-mail client. But with TwitPickr it can be done much easily.
Follow me on Twitter @pcsbox