Online screen sharing tools are one the best way to tell your friends what and how to do things when you are not near them show. But installing the tools on your computer and start using them is surely a pain.
So, this leads us to use the online screen sharing tools. Now there are number of such free services available on Internet. All you need to is just log on to any one of them, get yourself registered and get started.
You can make the most of these sites for informal meetings or even formal ones when you cannot afford high end tools from reputed developers.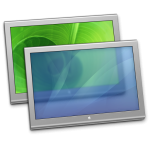 Top 3 Free Online Screen Sharing Tools
Join.me
This is an amazing online sharing tool which works on Windows, Mac and even mobiles. And the best part is that does not ask you to get registered to it. You can logon to the site and straight away share your screen with others. And you can use the same site to join someone who is sharing his screen. It is as simple as it sounds.
Quick Screen Share
In addition to online desktop sharing, this web service also lets you take control of the other person's screen too. It is a Java based app which does not require you to get registered to it by any means. And you can directly start sharing your screen.
Skype
Even Skype lets you share your screen. Yes, it might not let you control the other person's screen but this IM service is a great way to share screen online. And the fact that you can still keep the audio chat working while sharing the screen makes it a great tool.