Here is a cool application for iPhone and iPod Touch which provides you with a facility to send free unlimited text messages or SMS. It is called textPlus, powered by GOGII's innovative interactive SMS technology. This application provides integration between users with standard SMS text messaging.
Using this application, You can even text or SMS unlimited messages to your friends for free.  It also lets you text several friends all at once along with a special feature called Real Group Conversations. This makes every SMS look like an instant chat room in text. This will be useful when you are chatting with more than one person at a time through SMS.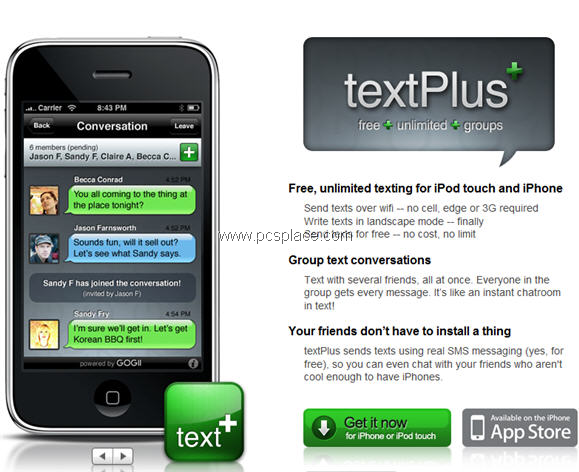 You can even chat with friends who don't have iPhone or iPod Touch. To use this, just download the application from the site given below or from app store, install it, and SMS your friend and start the conversation. It is one of the best applications for all those iPhone users who text a lot.
Here are some other features of this amazing application..
Send free unlimited text messages from iPhone and iPod Touch.

Send free text messages to multiple users. 

No cell, edge or 3G required.

Write text in landscape mode

Real group conversation – text like an instant chat room, etc.
Check out textPlus here : www.beta.gogii.com/v/textplus
Also check out 9 best Free iPod and iPhone Touch games you should download.