SavorChat is a Free group chat web application for Facebook and Twitter users. It is useful to connect Facebook friends and twitter followers together. This internet tool is useful to conduct group chat sessions among your twitter or Facebook friends easily. It is ideal for conducting Online networking meetings, Conference calls, Live discussions etc.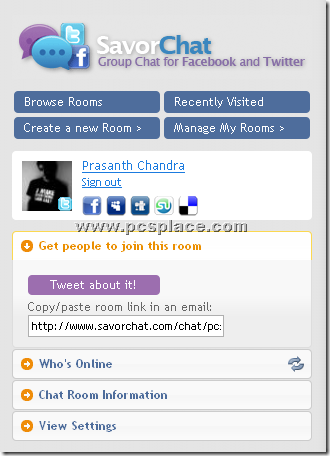 You need to login with your Facebook or Twitter ID or even create an account to access this service. After You authenticate your ID, you can create your own chat room. This room can be made public or private using the stealth settings. After you create a chat room, You can..
Send messages to more than one friend at a time and

Invite friends to join in the group chat.

View the information about group chat room and people online

Publish about your room or even the chat messages directly on your Facebook wall or Twitter.

Organize chat rooms you created..
Chatting with your friends is made easy with SavorChat. Check it out for more details and features.