How many times have you come across the situation when you wish to have a particular ebook of yours on your friend's device or computer? I guess, the number would be high.
Here is a solution for such situations. QuiteThyme is a free web service (yes, it offers many paid versions also), but its free version is good enough to cater to your needs.
QuiteThyme lets you upload books, manage them, and access them from any where you want, provided the device is connected to Internet. Below are some of its features:
Incredibly user friendly interface

Free account lets you upload upto 1000 ebooks
Supports epub, pdf, prc, mobi formats (and it would grow soon)
Features an online library which makes the whole book managing deal real easy
Also lets you use your Dropbox account for storage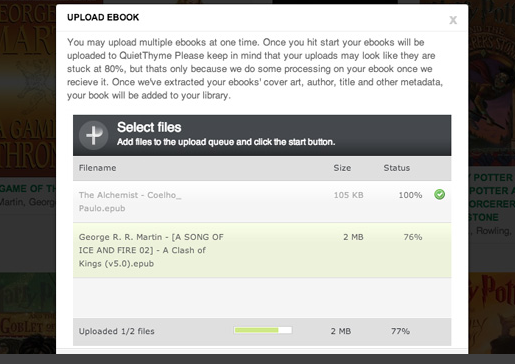 Here is how you can start using it:
Login to the web service after its registration or straight away access it using Facebook, Yahoo and few other accounts

Go through its guide after login as it would help you
Upload the books that wish to have handy regardless wherever you are
If the books are popular, QuiteThyme would upload its cover art automatically
Now you can make use of its library to manage your uploaded books, or read any one of them for that instance
Assuming you have uploaded your books, and you wish to access them. How would you do that? Well, login to QuiteThyme, click on its Settings option, and then on Catalog. There you will find two types of URLs, OPDS url and Mobile URL. Pick up the appropriate URL and start accessing your ebook from the appropriate device.
That is it! Isn't this an incredible way to upload books and access them from any device or any computer. And the fact that QuiteThyme offers an amazing way to manage all your ebooks makes it a must have web service account for all the people who use ebooks everyday.