Services like Last.fm are not the only way to share your favorite music on Facebook and Twitter. Feeder.fm is one such service, which is the easiest way to share music on Social Networks like Facebook and Twitter.   
The best thing about Feeder.fm is that unlike most of the similar web services, it does not require any kind of registration. You can logon to this web application and start sharing music.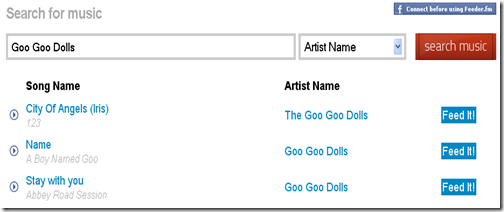 Once you visit its website, simply type the name of the artist or song that you are looking for and then click on Search Music button. Then simply click on Feed It! button to share it on your Facebook and Twitter profile.
Happy Sharing!