Here is an web application to customize and personalize your Twitter profile background. This will let you create free Twitter backgrounds which look like professional graphic designs. You can easily Design your own twitter profile background.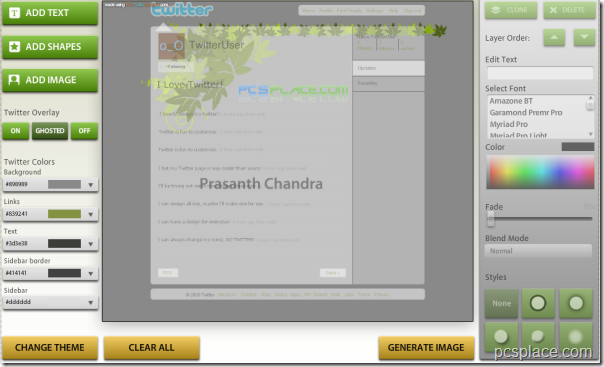 First, select the background theme by clicking on one of the given templates or you can even start from a blank background. After selecting the layout you will be redirected into an editor where you can manipulate and edit your theme in many ways. You can add text, Shapes, Images and can make the twitter timeline as transparent ( ghosted ), overlay etc. You can even change colors of links and text and borders on the profile.
After you are done with all the editing, click "Generate Image", which generates an image which can be set as a background for your Twitter profile. The colors of links and text can be also be changed. Like this, free twitter designer lets you to edit and preview your twitter profile and generates custom background images.
Show off your creative designs by designing twitter profiles at www.freetwitterdesigner.com.
Follow me :  http://twitter.com/pcsbox