Myebook , a web 2.0 site which aims to revolutionize the way we create, publish and share ebook content online. You can create, e-books, brochure, comic, magazine and Photo Album here. It is built on a reader friendly environment with lot of features. It acts as a powerful social platform with  browser-based, builder software.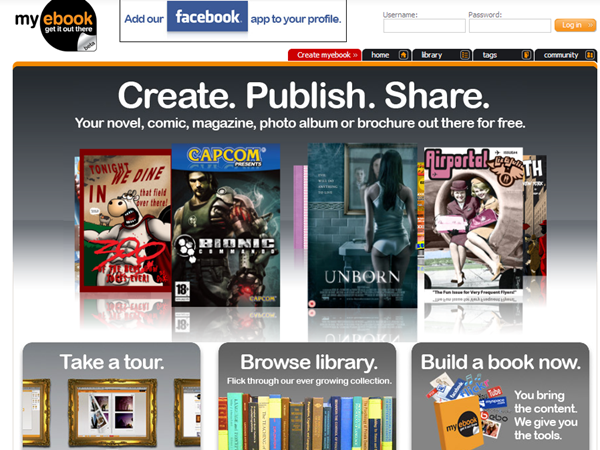 The home page contains the latest e-books shared by users along with options to Take a tour, Browse Library, Build a book. You need to log in to browse books and this needs registering an account. You can do it by pressing the register button on top and filling in the form. While registering you should choose a username and this will be address of your site home page. It will be www.myebook.com/username. You can promote this address to let others access your site.
The book builder is one of the important part of the site as it lets you create books. It is just drag and drop and one more interesting feature is the intelligent click, what this simply means is that whenever you click on an asset or area within the builder the edit panel changes and highlights the options for the selected asset or area, no looking through the dropdowns or having to read the help to find out how to crop an image or add text, simply click what you want to manage and then look to the right, and as if by magic the options are there!
The viewer provides reader with an ability to interact with your e-book by taking screen grabs, subscribing, watching video, leaving comments and much more. My eBook is the YouTube of e-books.
Check it more features here.. http://www.myebook.com