CardXC is a free online business cards creator. This business card tool can be used to design or make your own customized business card from scratch or from the predefined templates. This also acts like an online profile page where people can view, print your business card and can even save the card as a VCard and you can even embed your online business card on any website or blog.
This free web service lets you create or design your own free business cards using an online business card generator. This created card can be viewed and printed by anyone who stumbles upon it which makes this very much useful for personal branding.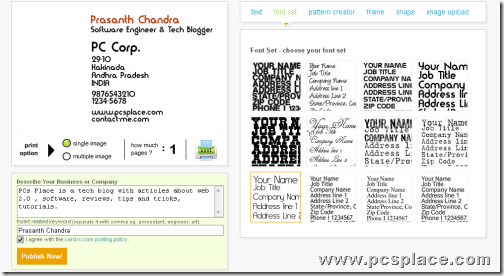 You need to sign up to use this service. Once you login to your account, you will have options to create your own business card or a template which can be used by others to create their own free business cards online. You can design your card using many options to edit image, text, font, frames, patterns etc. After designing your card, click on Publish Now to make your card visible to everyone.
Some of the best features of CardXC are..
Unlimited freedom to create your own free business cards online.
Option to display Gravatar and social networking links on your profile page.
Print created business cards designs.
Embed card on any webpage.
Share or send to anyone.
Short unique URL which can be used to promote your card at any place.
.
CardXC provides a platform to make online business cards and this can be used to show your personal identity on the web. Creating a business card couldn't be easier. Go ahead and create your own online business card and share them here.