First question I would like to ask is, who does not like free stuff? And the second would be, who does not like listening to music? The obvious answers for these questions would be everyone and no one respectively.
In this post, we would be talking about free online music. Spotify has proved to be people's favorite to listen to music online, although it is paid service. I would prefer to use the free service if it is equally good, and I reckon everyone would do the same.
So here are the best free alternatives to Spotify. I have labelled the below free online radios as free Spotify alternatives because these services are good enough to compete with Spotify and yes, using the below services is free.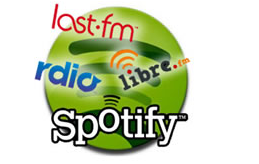 5 Best Free Alternatives To Spotify
Jango
This is free online music service which I have discovered lately and fell in love with it since then. I have used a couple of paid online radios but Jango is no less than them. It is easy to use, offers quality music, and its free. You can give it a try and I am pretty sure that you would stop believing in paid music services now.
Jamendo
They market themselves as the number 1 platform for free music. You can browse tracks, artists, bands and genre & start listening to music. You can even make use of this free online music service to discover music.
Libre.fm
They say its a free alternative to Last.fm. But the fact that it offer music online music, it is an alternative to any free online music service. You can not only listen to music here, it even lets you download them.
Musicovery
As the name suggests, this is an incredible free online music service to discover music. You get to listen to music randomly by choosing the mood type, genre and time. That is it! This service will start operating on its own.
MySpace Music
MySpace is no longer serving as a social network but its MySpace Music is still a cool utility to use. I wont popularize it much, but I would still want you to check it out. I won't guarantee it to be a mind boggling service but it is good enough for a free online radio.
Radioplayer
This is a UK based free online radio which airs number of radio stations. If you like listening to conventional radio, then these stations would give you a feel of listening to actual radio on Internet.
SoundCloud
If you are into Indie genre of music, then SoundCloud is a must try service for you. There are thousands of artists on this service, popular and unknown. If you like exploring music artists, SoundCloud is the best place to hit.
In this Internet age, there are dozens of free music online services hitting the web every month. Each and every service listed in this list of free Spotify alternatives is good enough to make you switch from Spotify to any of these services. If you are aware of any such services, please comment and share.