Facebook has surely become an very important part in a common Internet users' which enables them to keep in touch with their friends and relatives. Facebook is not just a normal social networking website, its a powerful tool for marketing people too.
Because of some reason if you are looking for a way to delete your Facebook profile permanently, then continue reading this post. Before we actually tell you how exactly to do it, we would like you to do some more things like backing up all your Facebook data, unregister from all the apps that you have subscribed on Facebook.
Backup Facebook Data
One thing that anyone has on his / her Facebook account is immense amount of data in terms of photos, videos, messages. No matter what's the reason is behind deleting your Facebook profile, you would surely like to have all your data on your local computer. After all its yours.
There are number of third party tools using which you can backup Facebook photos, videos, but I would rather recommend you to make use of the default Facebook tools as its safe in terms of security.
Click on the Settings option on your Facebook page (Account Settings to be more precise)
Now click on General option on the left side panel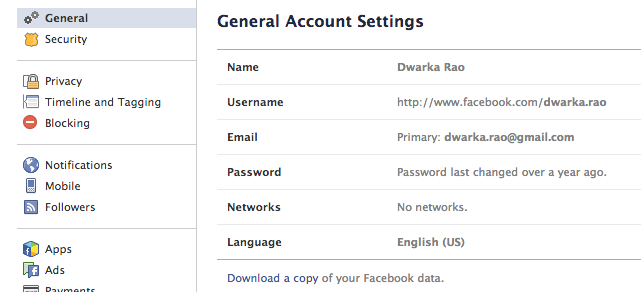 Click on the Download A Copy link
Now click on Start My Archive and once archiving is done, you would need to click on Download Archive button to get all your Facebook data onto your computer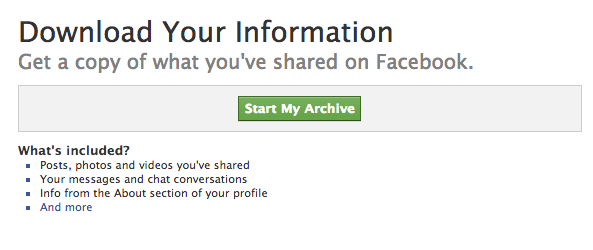 This is how you can download all your Facebook data onto your computer. But you have to use some third party services to backup Facebook contacts and birthdays.
Unsubscribe From All The Facebook Apps
Its very important to unsubscribe all the apps, pages, plugins that you have subscribed to. Below are the steps:
Click on Account Settings option
Now on the left side panel, click on Apps button
Now click on the X button besides the Edit links across all the apps, pages, plugins (do it for all of them)

That is it! This is how you can get rid of all the Facebook apps.
Delete Facebook Account Permanently
Since you have backed up all your Facebook data, got rid of all the third party apps, we are good to delete Facebook account. Make a note that, once you are done with 14 days of grace period, you cannot get back your Facebook account.
Login to Facebook Help Center's Deletion Page
Click on the Delete My Account Button

Fill out the security questions and click on OK button
Now forget Facebook completely for 14 days. Logoff from all your computers, mobiles, laptops, tablets and ensure that you are away from Facebook in all ways
That is it. This is how you can permanently delete your Facebook account and also ensure that you have all the stuff back with you that you ever put on Facebook.