Comical is a free program for Windows that offers a comfortable way to download and read comics online. With it you can download and read the book straight from your desktop, without requiring you to access any site.
The application displays the list of comics on the left side and to update all items in the list press F6. When you finish updating press the space bar to download the book and start reading.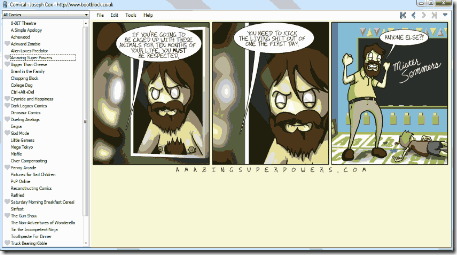 To update individual items, right-click on an item from the list and click on "Check for Update" to update only the selected cartoon. Double-click an item in the list will open the selected cartoon.
You can also add books from the favorites list, and read the comic with complete pleasure using the full screen mode and navigate through the book using the commands at the top right of the window, etc..
The application comes with a good collection of online comics (in English), but you can also add new items on the list. The forum program you will find information to customize the list of feeds.