You know whats the best thing about Mac OS, that you have inbuilt keyboard shortcuts with each and every program. But it all boils down to a simple fact that how do you use them or are you atleast aware of them.
Here, we would be sharing the best hidden keyboard shortcuts for Mac. Or I should rather say, the best unknown keyboard shortcuts for Mac. Let me guarantee you one thing that once you are done reading this post, you would definitely be awestruck and would surely start using most of them.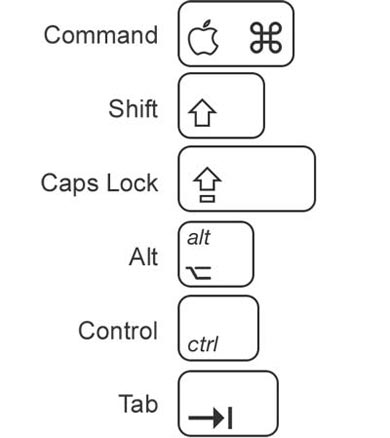 Best Hidden Keyboard Shortcuts For Mac
Control The Volume Control
Have there been times when you have increased volume by 1 point and you feel that its too much. Wish you had an option to reduce the rate at which you can increase or decrease the volume. Then here is the trick.
Shift + Ctrl + Volume Up / Volume Down       –       Increase / decrease volume at smaller rates
Shift + Volume Up / Volume Down                   –       Increase / decrease volume without clicking sound
Option + Volume Up / Volume Down               –       Open sound preferences window
Cut – Paste Files And Folders On Mac
Unlike Windows, you cannot cut files or folders on Mac directly as Mac treats it as data loss. Instead, you can drag and drop option to move files or folders to one location to other. But if you are use to keyboard, then here is the way.
Use Ctrl + C, to copy the files or folders, and paste it by Ctrl + Option + V, which will paste the selected files and folders to the new location and remove it from the previous location. And if you use, Ctrl + V to paste, then it would work as normal copy – paste features. But, this will only work on Mac OS X Lion.
Easiest Way To Download YouTube Videos
How were you downloading a YouTube video on Mac? I am quite sure that you were using some third party tool. Why? Why to do that way when Mac lets you download the video by default. Here is how we do it.
While watching a video on YouTube on Safari (this shall work to download videos on any website), hit Ctrl + Command + A, which will launch the Actions window. Here, get into the file contents of the Safari tab on which video is running and download the biggest file in the list, generally in MBs which is actually the video.
This is how you can download YouTube videos on Mac. Fast, simple and smooth!
Inbuilt FTP Client
With Mac, you do not need a third party tool to transfer your files to any FTP client. While on Finder, simply hit, ⌘+K which would launch the Connect To Server window. Simply enter the address of your ftp server and start accessing it. Do not forget to prefix the address with ftp://
Super Slow Way To Minimize
While you click on the minimize button on the screen, hold the Shift button and watch the screen getting minimized in a super slow fashion. A good trick to surprise your friends and show them why Mac is so special.
Shortcuts For Capturing Screenshots
If you thought that you need a third party tool to capture screenshots on Mac, then you were wrong. And if you are aware of this, then I am pretty sure that you are not aware of how to use this trick even more efficiently. Check it out!
⌘+Shift+Ctrl+3          –          Capture full screen to clipboard
⌘+Shift+3                    –          Capture full screen
⌘+Shift+Ctrl+4          –          Capture selection to clip board and below are its options
Hold Option and move your cursor to grow from the center
Hold Shift to lock the selection horizontally or vertically
Hold Space to move the selection
Hold Space and Shift to lock and selection in one direction and move it
Press Esc or ⌘ + . to cancel
Hit Space to grab a new window
⌘+Shift+4          –          Capture selection to clip board and below are its options
Hold Option and move your cursor to grow from the center
Hold Shift to lock the selection horizontally or vertically
Hold Space to move the selection
Hold Space and Shift to lock and selection in one direction and move it
Press Esc or ⌘ + . to cancel
Hit Space to grab a new window
Few More Hidden Keyboard Shortcuts
Apple Logo  –  To get an Apple Logo , just hit Shift + Option + K
Delete – Hit Ctrl + D to make use of the Delete button like you do in Windows, i.e. deleting from front
Jump to Google Search box – Hit Command + Option + F
Search for an item on Google directly – While browsing on Safari, you can select a word or any search item and hit Command + Shift + L, which will directly Google search the selected text