Technology has surely become a part of everyone's life. Whether it would be a small scale business or large scale, technology always has a part to play. And the use of technology only helps it.
Unlike big names, the smaller companies cannot afford software developers to design tools. So, if you are running any business on small scale, and need free ERP software, check out 2BizBox A2.
ERP actually stands for Enterprise Resource Planning. I know that you are already aware of this abbreviation and that is the reason you have ended onto this post. 😛
This free tool will let you manage your resources and inventory. Yes, you can have an eagle eye on the movement of your inventory, which will improve your business in so many ways.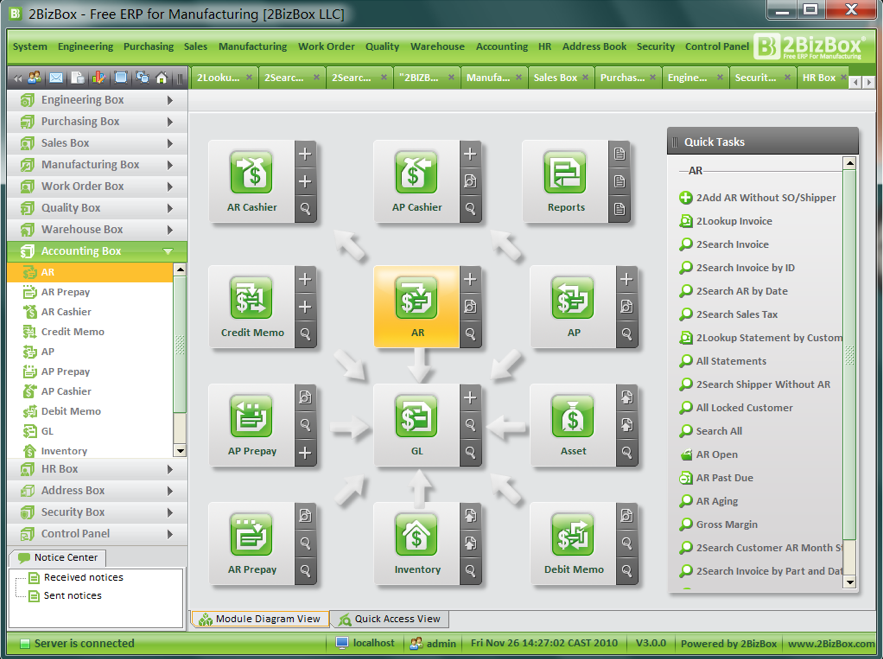 Although 2BizBox A2 is a free tool, but it offers you with all the required features. And the fact that it is so very easy to use makes it even more powerful. It will hardly an hours and you would get to know this tool inside out. The tool lets you manage all the aspects of your business. Below are some, which can be found as the Main Menu items of the tool:
Sales
Accounting
Warehouse
Documents
Address Book
Security
Engineering
System
Control Panel
Let us do little more into this software. Since you would not want everyone in your business to access and alter anything, you would have to set some restrictions. So this tool divides itself in two sorts, namely 2BizBox Server and 2BizBox Client.
As the names suggest, Server lets you configure your tool and Client is used to access your records in the database. Once you install the Server program on your machine, you would need to configure the whole mechanism. Although, the tool would configure most of the features itself, but you need to customize it as per your requirements and make a relationship between them.
Once done, you can install clients on the required machines. So, whenever someone tries to access the data, it would prompt you to enter User ID and Password. And once logged in, you can access all sorts of data.
Like all the ERP tools, efficiency and functionality of 2BizBox totally depends upon the way you configure it. Yes, it can be said that if you feel the tool is awful, then you failed to configure it properly because this is an amazing ERP tool.
If you are still on convinced, then visit their Home Page. They have displayed the complete layout of its architecture which would help you understand the way it functions.