A computers performance depends very much on its maintenance of the system. Especially, The PC protection is very important to safe guard your computer against various threats. This is not a tough job and it just takes 10 minutes to make your PC safe and secured. Here are some methods which will help protect your computer completely from any kind of viruses, breaches, and other malicious programs.
There are lots of tips and tricks to improve performance of PC. We already discussed about them in our posts Tips to speed up your computer and ways to speed up XP and tips to optimize Vista. But all these will go in vain if your computer is not protected. Here is the list of processes you should follow to avoid security risks..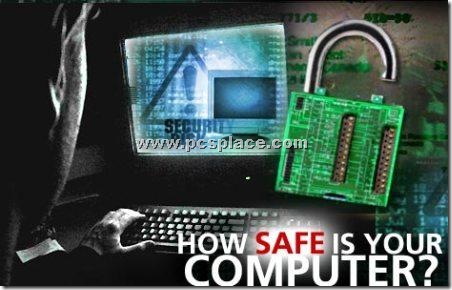 Automatic Updates : 1 Minute
Operating systems are not safe as they are. there may be some flaws which makes them vulnerable to Trojans, viruses, malware etc. Automatic Updates are best way to make your operating system up to date and reduces the probability of attacks.
It takes only 1 minute to enable the automatic updates. To do this,
Go to Start > Control panel > Security Center > Automatic Updates > On
This will make the system to automatically download and install updates.
Virus Scan : 1 Minute
As per Kaspersky security report there had been 2,36,80,646 virus attacks in 2008. The number of people who are victims of these attacks are 4,79429 only in India. By this you can know the importance of an antivirus. Virus can enter a system in many ways like file transfers, email, IM, downloads.
To keep your PC safe, you need an updated anti virus. It is recommended to use only one antivirus as more than one antivirus may result in conflicts between software and may lead to system hangs, restarts etc. So always make sure you have an antivirus installed with recent updates. The antivirus should be updated regularly to get better protection.
You can use any free antivirus like AVG or even buy an antivirus. For interesting deals about how to get premium antivirus for free, Go through this link – http://pcsplace.com/tag/antivirus
Anti-Spam : 3 Minutes
Along with antivirus, you also need a antispam. This is mainly important to prevent internet spam. According to semantic report, In 2008 the spam mails increased by 82.1%. To remove al the junk an anti-spam software is a must.
Spamihilator will work better to remove dangerous spam mails and will only allow genuine mails into your inbox of your mail client. It just takes 3 minutes to set up this software. It works fine on Microsoft Outlook, Opera, Firefox, Eudora etc. Know more about it here : Spamihilator – Anti-Spam Filter 
Login with USB : 2 Minutes
When you are away from your system, you need to prevent anyone from accessing the computer or connecting any USB drive to it. You can lock them using a password, but there is always a chance of forgetting it. You can lock your PC using a USB drive. This will make USB drive as a key to open your system. This hardly takes 2 minutes.
Check out the procedure here : How to Lock your Computer using a USB Thumb Drive
Safe Passwords : 1 Minute
Passwords are very important for any one. While we try to keep passwords so that they are easy to remember, hackers will try to break them. You can even try tougher passwords but they will be hard to remember. Here is a post on how to select a password.
This problem can be solved by using a software called KeePass. This makes it easy to remember your passwords as it makes a list of passwords. It takes just a minute to arrange this.
Encryption : 2 Minutes
USB or Hard Disk, whatever may be the storage device, it is better to encrypt the data. Encryption makes it difficult to access information by unauthorized user. You can use TrueCrypt for this. It makes it easy to encrypt any kind of information in USB or hard drives.
Also check How to Encrypt data in USB drive and Easy way to Encrypt data in Hard Drive.
That's it and you are done! In 10 minutes you have made all the necessary steps to protect your PC against any possible malicious attacks. These methods if followed will help you give COMPLETE PROTECTION to your system.