Infrared Ports are one way to transfer data among electronic devices. In our previous article we discussed about how to transfer or share files using Infrared ports. There we explained the procedure to set up the infrared port and send data to the mobile phone from a laptop.
In this article, we gave the steps to be followed to send data from the mobile phone to the laptop..
Step : 1. Activate IR in the phone by going to 'Settings' or 'Connectivity' options in the phone menu.
Step : 2. Navigate to the appropriate location in the phone where the file to be transferred is stored. If the phone has a file manager, this would be the most convenient way to do it.
In case there is no file manager in the phone, the file will be stored in an appropriate location such as 'Image Gallery' for images or 'Recorder' for audio files and so on.
Step : 3. Press 'Options' or 'More' and then select the 'Send' option that will appear.
Step : 4. Select Infrared as the mode of transfer and align the IR port on the phone with that on the laptop.
Step : 5. A window will appear on the laptop screen asking you to accept the transfer. Click on Yes to continue.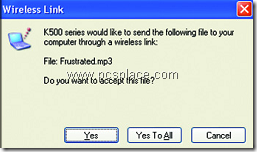 Step : 6. After the transfer is complete, another window informs you that the files were received successfully. It's a swap!