Where can one find songs that are only instrumental to use in karaoke parties? Now you don't need to search for them. You can create your own karaoke songs for free. You don't need to have a recording studio since Audacity does the job. Using this freeware, you can remove the vocal piece from the songs centre of the stereo panorama and can make your karaoke music CD's. You can download Audacity from http://audacity.sourceforge.net/. Here is the procedure to follow..
REMOVING THE VOICE TRACK:
On executing the software, load the desired audio file in Audacity.
Open the context menu in the editor on the left by clicking the arrow next to the file name.
Separate both channels with 'Split stereo sound track'.
Then select the right track by clicking on a free space in the gray region and open 'Effect > Invert'.
Now click the menu arrow for each track one after the other and select the 'Mono' command. This deletes the parts of the track that are at the exact center. This often reduces the vocal part of the track considerably.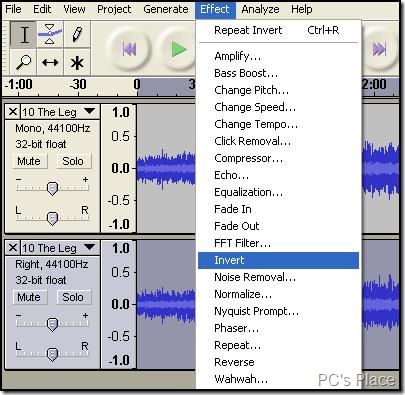 Unfortunately, even other parts of the track are lost, especially those from the bass. However, you can try to balance this out with 'Effect > Equalizer'. If the voice is not heard exactly in the middle of stereo panorama, you can try and increase the level in the weaker channel with 'Effect > Amplification' before converting the stereo files into mono files.
OPTIMIZING THE FADE-OUT:
The 'Voicetrap' plug-in is very useful and can be found on www.cloneensemble.com/vt_main.htm. Look for 'Download' on the website and click on the 'VST (Windows)' link. Unzip the archive and copy the contents in the 'Plug-ins' folder in the Audacity program directory. Prerequisite for the use of Voicetrap in Audacity is the 'VST-Enabler' auxiliary program. Download this tool from http://audacityteam.org/vst/ and install it.
When you start the program next, the Audacity menu will contain the 'VoicetrapV20' effect. The freeware version of the plug-in achieves good results with its default settings. The registered shareware variant for 25 dollars offers more options for detailed configuration. The advantage of Voicetrap is that there is comparatively less interference with the sound of the music piece and stereo signals and the depths are preserved.
NOTE: How well one succeeds in fading out the vocal piece depends largely on the selected music piece. Invariably, even expensive programs cannot completely remove voices without any loss of sound. Erasures on live recordings can be difficult.
Now you can burn your karaoke songs on CD's using any burning software and have karaoke parties.