If you work so much on MS PowerPoint then you must have realized the need to combine or merge multiple MS PowerPoint PPT files to one. So, do you have a better way to do it rather than copying all the slides different files to a single file?
Well, try PowerPoint Join. This is a free program which lets you combine / join /merge PPT files without much of effort. And the fact that is automatic and fast, makes it even better.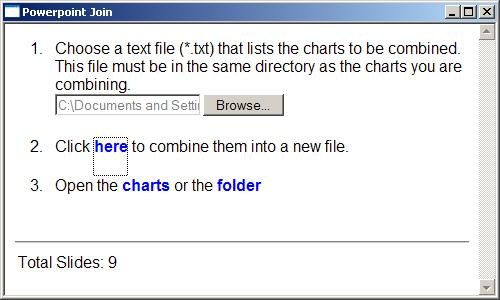 First thing that you need to do is copy all the PPT files that you want to merge to a same location. And at the same location, create a text file mentioning the exact paths of all that files.
Now launch, PowerPoint Join. Here, browse to the location of the text file. Once you do it, click on the here button which would actually merge all the PPT files that you have listed in the text file. Once it is done, it would open a blank MS PowerPoint window.
Simply close it, and at the same location you would find a new file named as combined.ppt which is actually the merged PPT file.