Google Reader would be turning its power off on 31st June, 2013. And all the Google Readers are expected to find their alternatives (check out my Google Reader alternatives list). And make sure that you get the backup of your RSS feeds done.
Having an export of RSS feeds from Google Reader will let you save so much of your time and resources. All you need to do is use the the export file, and start using the new RSS client the way you used to use Google Reader. As simple as it sounds.
How To Export RSS Feeds From Google Reader
Get on to Google Takeout, which is basically a Google service which lets you download a copy of your data saved on Google products
Use your Google Account credentials and log on to the account
Click on Create Archive button, which would actually create a local backup file of all your subscriptions of +1s, Buzz, Contacts, Drive, Reader, YouTube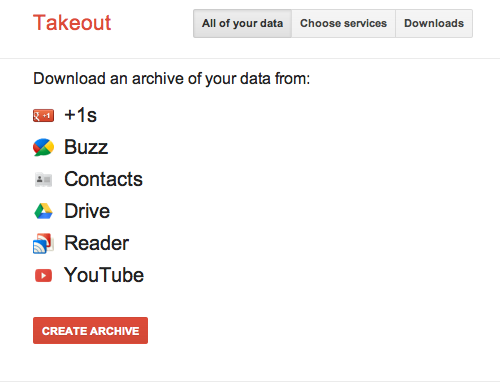 It will take few seconds (depending on the size of the data), and once done, click on Download button

Unzip the downloaded file and get into Reader folder (all the subscriptions backup have been categorized into folders based on the services)
There you will find a XML file, which the export of RSS feeds from Google Reader
How To Import RSS Feeds From Google Reader
Since you have the export of RSS feeds, all you need is a good RSS client so that you can make use of the XML file that you got from the above steps, and start accessing your feeds.
Find yourself a good RSS client

Get on to its Import option and then use the above XML file to get going
That is it. This is how you can export and import RSS feeds from Google Reader and get started with your reading business straight away.