Many users remain logged on to MySpace.com all day and keep in touch with online friends by means of messages. These messages are spontaneously sent across to contacts and friends and can facilitate as a great substitute to the stereotypical mailing systems. However, there may be occasions when you will not be able to respond to your contacts immediately either because of some other engagements or because you are unable to connect to the site for a certain period of time. 
To save any misconceptions from arising on the end of your contacts it is better to display an away message. This message will notify your contacts of your absence. Unlike most instant messaging systems, MySpace.com doesn't have any pre-typed away messages. You have to manually enter the appropriate messages.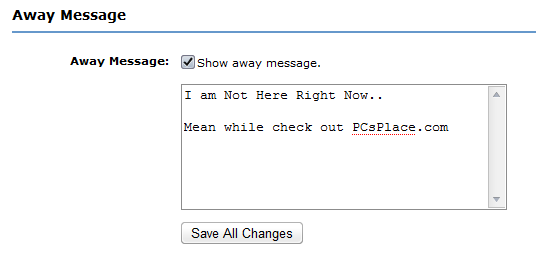 Log into your MySpace account.

Click on 'My Account'.

In the Settings page click on 'Miscellaneous'.

Scroll down to the section that's called 'Away Message'.

Click on the 'Show away message' check box.

Type your away message in the textbox that's provided.

Click 'Save all changes' for the changes to take effect.
Once you have added an away message your contacts will be notified about your absence via the message you had typed in the form. Instead of the message form your contacts will be greeted with the away message that you had typed.
To disable this feature simply navigate to the Miscellaneous section in the settings page (as described above) and uncheck the 'Show away message' check box. Your contacts will be able to message you again.