These days, most cell phone users are not completely satisfied with the ringtones that come preloaded on their cell phones. There are programs available in the market to make customized ringtones, but these have to be installed on a computer, and using them can be quite tedious.
Here is a fast and easy way to edit ringtones online in just six easy steps and all this for free! After your ringtone is created or edited, you can download the ringtone to a computer and transfer it to the mobile or use the mobile's GPRS to download it directly. Let's learn how to create your own ringtones from your favorite songs online for Free.
Register
Log on to www.zedge.com  and register for free. It just takes 10 seconds. If you want to use the GPRS features of your phone, then specify the name of the service provider, phone model and so on.  Log in and start creating your own cool ringtones. Click on the under 'Ringtone Maker' in the Tools menu.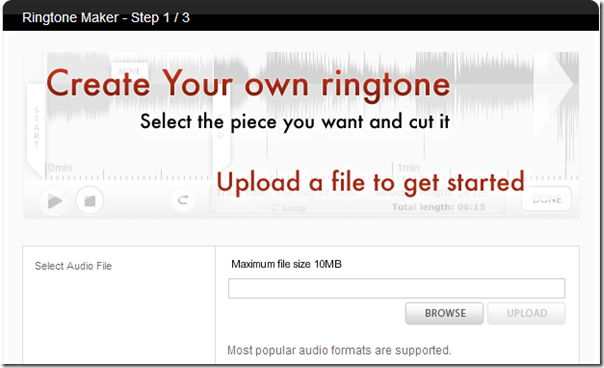 Select the Track
On the 'Ringtone Maker' page click  'Browse' and select a song of your choice from the computer. Make sure that the sound file is not bigger than 10 MB. It supports all popular formats like mp3,wav,etc
Upload the song you want as your Ringtone 
Upload the song that you want to use to make the ringtone. Wait for the audio file to load. Make sure you have a fast Internet connection if your files are of bigger sizes.
Play the song
After the file is uploaded, in the ringtone maker, click on the 'Play' to check if it plays. Select the  part of the track you want to use and mark it accordingly.
Crop the song and Preview the Ringtone
To crop the selected track, drag the 'START' or 'END' tabs in the ringtone maker. The 'MOVE' tab allows you to move the entire selection left or right. The selection can be looped by clicking the 'Loop' button. Click 'Play' to preview the ringtone, if you are happy with what you hear, click 'Done' else go back and edit it again till you get your favorite selection.
Download the ringtone to your PC
To download the ringtone to your PC, click 'Download to PC' and copy it to your phone. You can now set it and show off to your friends.
And there's more; this site can also be used to create wallpapers, themes, and screensavers. These days the Internet has quite a number of websites that offer similar features.
Check out these sites. 
http://makeownringtone.com/ 
http://mobile17.com/ 
http://www.mytinyphone.com/ 
http://www.phonezoo.com/ 
http://www.myxertones.com/
 
So go ahead, get started and create your own ringtones from the most happening songs and show them off to your friends and share them if you like. If you know any other better alternatives, Do let me know..