Did you ever get frustrated with those PDF files which are locked? Generally PDF authors will apply these restrictions to prevent their content from being copied, printed etc. Sometimes the author's may forget the password.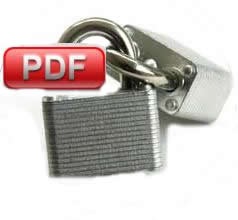 If you want to unlock the Locked or Password protected PDF files you need to have the password. If you don't have one here are some easy ways by which you can bypass the restrictions applied on PDF files.
Generally the software which are used to unlock PDF files are expensive. But here is a open-source command line utility for Linux and Windows to crack PDF passwords with ease, the software uses wordlist and brute force password cracking methods to get its work done.
You can download it here: PDFCrack
If you don't want all those command line things there is also a simple procedure to Unlock PDF Files Online where you have to just upload your files and a unlocked version will be displayed in another window.
Click here to unlock them online
you can also unlock excel files by using an excel locker in the above site by following the same procedure
The best way to unlock PDF Files is a free ware utility called Freeware-PDF Un-locker. Using this software is very easy. You just have to drop your locked PDF files on the shortcut after you install it. Then it will create an unlocked version on the same folder.
Download it here: Freeware-PDFUnlocker
These methods are enough to unlock PDF files of any type of restrictions  and If you have any better ways you can share them here.