Adobe Acrobat Reader has a feature that allows for a transition between pages. This feature can be useful to make a PowerPoint like presentation from your PDF document. There are no animation options for text or objects however. You can use this feature to regulate the transition effects of PDF pages and to make the presentation lively. To use this feature,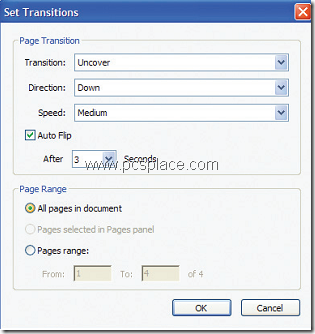 Go to Advanced  >  Document Processing > Page Transitions.

Select the transition from the drop down box. There are thirteen transitions available, and a random transition.

Next select the direction of the transition. There are various options available depending on the type of transition.

Next select the speed of the transition. There are three speeds; fast, slow and medium.

Check Auto Flip if you want the page to turn automatically, you can specify the period in seconds if you choose this option. If Auto Flip is left unchecked, the transition will occur when the user changes the page.

Apply to All Pages In Document. Alternatively, you can specify a page range.

Click on OK.