When I first came to know about the fact that we can see password saved on Firefox browser, I was kind of shocked. And I am pretty sure that once you are done reading this post, you would react the same.
I am not sure if this feature is a glitch or something that Firefox included willingly. Whatever may be the reason, it has its own drawbacks and benefits.
If you have forgotten the password of any of your account, whose password has been saved by you in the the Firefox, then you can easily view it. This is the bright side of it.
But if any other person has the Admin account to that computer, then can also check out your password which obviously is its dark side.
Lets not go on to the sidetrack as we are meant to talk about the way to see stored passwords on Firefox.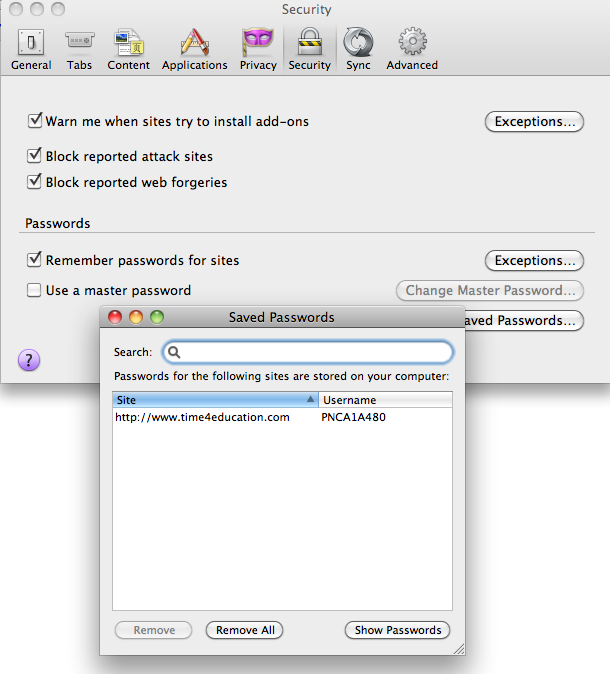 Steps To Find / See Stored Passwords On Firefox
You have to understand this that you can only check out the passwords for the accounts, whose passwords have been saved by you for auto fill on Firefox.
Launch Firefox browser
Now open its Options menu. If you are Windows, click on the Firefox button at the top, then on Options and then again on Options. And if you are on Mac, click on the Firefox button on the Main Menu and click on Preferences
Click on the Security tab now and then on Saved Passwords
Now it would display you with the list of websites and User IDs
Click on the one whose password you want to check out, and click on Show Passwords button
This will display you with the exact password for that website. If you want the Firefox to forget it, just click on the Remove button
This is how you can find / see stored passwords on Firefox. Isn't is an incredible trick to find out forgotten passwords on Firefox.