You may want the desktop available while presenting an image slideshow on a projector or a connected television set. So what's the solution? In order to run an image slideshow on an external display separated from the desktop, Use FastStone Image Viewer to get the best of two monitors connected to one computer or when using a projector. Using this you can present a photo slideshow on a second different screen other than your desktop.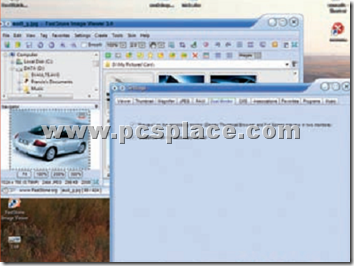 The application can be downloaded for free from here : FastStone Image Viewer. After the installation,
You must first switch on the support for an additional monitor.
Press F12 to bring up the settings dialog box and
Switch over to the Dual Monitor tab. The options under the tab will be available only if the second monitor is connected.
Activate the option 'Slideshow'.
Confirm your entries by clicking on 'Ok'.
The slideshow mode of the program always uses all pictures in the specified folder. Therefore, it's advisable to create a separate folder that contains copies of only the pictures that you would like to display in the slideshow. Then open the folder in FastStone Image Viewer and select 'View > Slideshow'.
In the next dialog box, determine other options such as the interval between images, display of additional text and background music. Click on 'Play' to start the slideshow. Thus, you can play your slideshows on any external display devices other than your desktops easily.