Creating a Quick Part in a Word document allows you to make a block of text easily accessible and reusable. This will make your document appear uniform, apart from saving your time. Word 2007 helps you capture content from one document and reuse it over and over again in other documents as a building block. Building blocks are parts of a document you can save using the Quick Parts tool and later insert into other documents.
Check out other articles about Microsoft Office and Word
For example, you may want to save your company's logo and contact information, a design layout of a report or any other style that you may use in other documents. To create a Quick Part building block in Word 2007 follow these steps.
Select the content you want to save as a building block.

Click the 'Insert' tab. 

Click the 'Quick Parts' button from the ribbon that appears.
Note: The content you select can include text, images and special formatting. Even drawings and hyperlinks can be saved.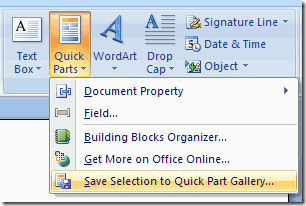 Select the 'Save selection to quick part gallery' option. The 'Create New Building Block' dialog box appears.

Type in a name for the building block in the 'Name' text box. Enter the other details in the appropriate boxes and click 'OK' to save the entry.
Now that you have saved your building blocks inserting them into your documents is even simpler. Here is how you go about it:
Open a new document. 

Place the cursor where you want to add your previously saved building block.

Click the 'Quick Part' button from the 'Insert' toolbar.

Select the building block you want to add from the choices in the dropdown menu that appears.