Why would one need a digital signature? Well, since you have ended up reading this, you must be surely having the reason then. The planet is going electronic. There are only few things left online, which can be done for real and not on Internet.
There are number of reasons why one would need an electronic signature. Here I am, compiling a post to help you create digital signature on your computer.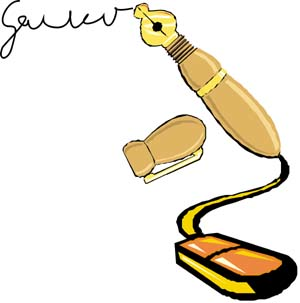 Steps To Create Digital Signature
Before we start with this mission to create a digital signature, there is an important thing that you need to do. Get a piece of paper and sign on it. Make sure that you do that a plain, spotless white paper
Once you are done with that, scan the same and save it on your computer
Now open it any photo editor, or even a simple tool as MS Paint would do
Crop your signature such that you do not have any extra useless real estate of the paper left
Now open the cropped image using the Photoshop as you need to use the Magic Wand. So select the signature and click on the Magic Wand button to remove the white spots
Keep the signature selected and click on the Inverse option under the Select option of the Main Menu
Now copy and paste the image on a new page and save it again. While saving make sure that you have enabled the Transparent option
Use the Magic Wand again to remove the white spots (if you find any)
Now save the image in other format, I would rather suggest you to go with PNG as it supports transparent format and JPEG is not recommended
This is how you can create digital signature on your computer even if you are not good with computer. Try and let us know if you face any issues while creating an electronic signature.