Cover Pages for Word Documents will make them look attractive. These cover pages will be used at the start of the document and it is very important to get a good design as it reflects the whole document. Creating attractive cover pages for concepts or literary tasks is difficult and time-consuming, especially if you have to do this often. Here is how you can create and use Pre-defined cover pages for word documents..
From 'Insert', click 'Cover Page'. The word processor provides multiple layout variants for a cover page. Click an appropriate variant. The cover page will automatically be inserted at the beginning of the text. It contains different field functions that transfer entries from document properties such as 'Title' and 'Author' to the new first page.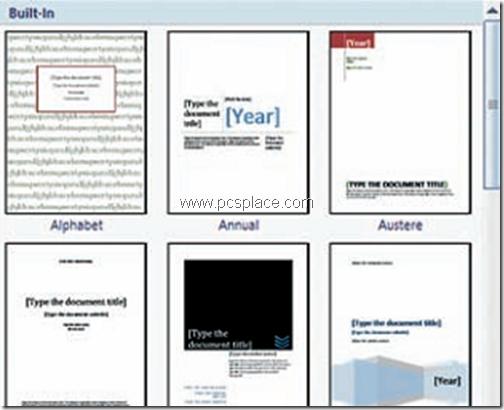 After creating your cover page you can save it as a template and use it whenever required. To do so,
Select the entire title page and click the 'Cover page' button from 'Insert'.

In the resulting menu, click the 'Save selection to cover page gallery' option.

The Create New Building Block dialog box appears.

In the Name text box enter a name for the new cover page.

Make sure that Word shows the 'Cover pages' entry under 'Gallery and 'Insert content in its own page' under 'Options'.

Then click 'OK' once again.