Regardless the reason behind why they want it, but I know number of people who want to check if USB drive / pen drive was used on a computer.
If you are a computer geek, then you can surely find it out by checking the logs on your computer. But this is not the way I am talking about. I am talking about a simpler way, which can be done by any one regardless his expertise on computers.
In order to check if a pen drive was used on a computer or not, we would just do some clicks, and will find out each possible bit of information.
We would be using a free program, IntelliAdmin USB History Viewer which would let you find if a USB drive was used on networked PC and standalone PC. This program is only compatible with Windows. Nevertheless, the fact that this program also works on computers on LAN makes it a powerful tool for any Admin taking care of computers on a LAN.
IntelliAdmin is actually a portable program, hence you need not install it. It implies that if you want to use this tool on number of computers connected on LAN, then simply have it saved on your Master computer, and use it from there to detect the use of USB drive.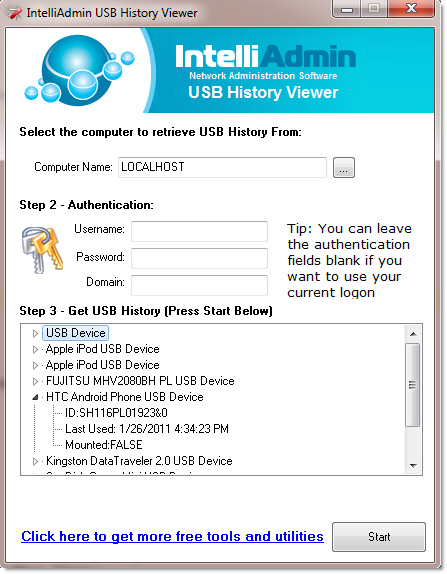 Here are the steps which will let you use IntelliAdmin USB History Viewer:
Run this program, and as soon as you do that, it would detect the network on which your computer is connected and would ask you to choose your computer
Once you choose the computer, it would ask you to enter the details like Username, Password and Domain. Enter them correctly and click on START button. But if you are trying to connect to the standalone PC, then ignore this step and click on START button
This would now list out the complete USB history on that computer
This history would have details like name of the USB Drive, its ID, when was it last used (date and time)
This is how you can easily find out complete details about the USB drive which has been used on a computer. I hope this tool would solve your purpose to find if a pen drive was used on a computer or not.