I love working on keyboard and does not prefer using mouse much. And there is a huge percentage of computer users who prefer completing their work using keyboard shortcuts.
In this post I have listed an ultimate list of 30 keyboard shortcuts for browser. And these shortcuts will work on almost all the web browsers.
This list of web browser keyboard shortcuts will save a lot of your efforts and time while you spend your time browsing Internet.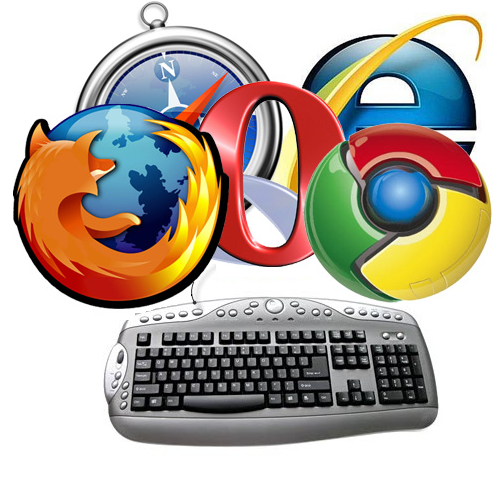 Keyboard Shortcuts For Internet Browsers On Windows
Actions:
| | |
| --- | --- |
| F5 | Reload |
| Shift + F5 | Reload and skip the cache |
| Alt + Left arrow or Backspace | Back |
| Alt + Right arrow or Shift Backspace | Forward |
| Alt + Home | Open homepage |
 Scroll:
| | |
| --- | --- |
| Home | Get to top of the page |
| End | Get to the bottom of the page |
| Space + Page Down or Page Up | Scroll Down or Up a frame |
 Zoom:
| | |
| --- | --- |
| Ctrl + + or Ctrl + Mousewheel Scroll UP | Zoom In |
| Ctrl + – or Ctrl + Mousewheel Scroll Down | Zoom out |
| F11 | Full screen |
Navigation:
| | |
| --- | --- |
| Ctrl + 1 – 8 | Switch to one specific tab counting from left |
| Ctrl + 9 | Switch to last tab |
| Ctrl + W or Ctrl + F4 | Close current tab |
| Ctrl + Shift + T | Reopen the last closed tab |
| Ctrl + Tab | Switch between different tabs |
| Ctrl + N | Open a new browser window |
| Ctrl + T | Open a new tab |
| Alt + F4 | Close the window (all the tabs) |
| Shift + Left Click | Open the link in new window |
| Middle Click On A Tab | Close the tab |
| Ctrl + Shift + Left Click | Open the link in the foreground |
| Ctrl + Left Click ( or Middle Click) | Open the link in new tab in background |
Misc:
| | |
| --- | --- |
| Ctrl + P | Print page |
| Ctrl + U | View source code of the page |
| F12 | Open developer tools |
| Ctrl + H | Open Browsing History |
| Ctrl + D | Bookmark the page |
| Ctrl + Shift + Delete | Displays Clear Browsing History window |
| Ctrl + J | Open download history |