Try Dropbox and see yourself going crazy. If you are unaware of what Dropbox is, then here is some introduction for you. Well, Dropbox is a web based file hosting service which works on the cloud computing technology. It lets you store your files and sync those files with your Dropbox so that you can use them any other computer located at any part of world, provided it is connected to Internet.
So, regardless the fact that you recently started using Dropbox or have been using it since quite a while, we list of some of the useful tips and tricks for Dropbox which would let you make the best of it.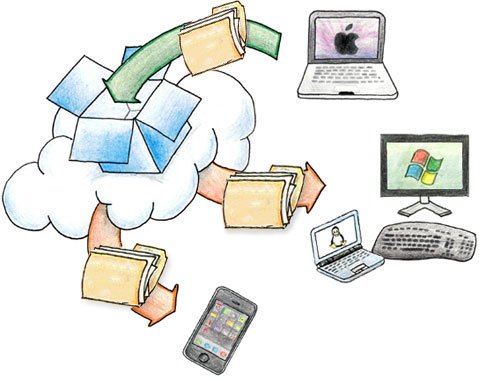 5 Best Dropbox Tips And Tricks
Backup your My Documents Folder
How about having a backup of your My Documents folder in your Dropbox? You can make your OS save all your documents directly to your Dropbox which would leave you free of any sort of worries.
If you are working on Windows 7, Vista or XP, right click on My Documents and click on Properties. Now, click on the Locations tab and click on the Move button. Now, enter the location of your Dropbox folder.
This will move all the files stored in Documents to your Dropbox.
Move Dropbox Out Of Documents Folder
Your Dropbox folder gets installed in Documents folder by default. So, just check with it and change the location to the one you want. Right click on the Dropbox icon on the Desktop Tray and click on the Preferences option. Now, change the location and click on the Move button to change the location of the Dropbox folder.
And if you are working on Mac or any of the Linux or Unix flavor, you can do the same thing by creating a soft link. So, navigate to the location of your Dropbox and enter the below command:
ln –s ~ /Documents
Here, /Documents will be the path where you want the Dropbox to be located.
Host Files On Your Blog
You can use your Dropbox as a hosting service too. Once you have your files, say photos synchronized to your Dropbox, you can use its feature, Copy Public Link and use that link to publish it on your blog.
Make Your iTunes Sync On All The Computers
All you need to do is copy the iTunes Library to your Dropbox and tweak your iTunes Preferences telling it the new location of its Library. And when you sit on any other computer, first make sure that you change its settings and let it know the location of the new Library and then it would sync your iOS device.
Get The Previously Edited Files
Dropbox offers you with an option of recovering the previously edited files in the time span of 30 days. Suppose that you have edited a file 100 times in the last 30 days. So, you can recover that file to any point that you want.
Apart from these 5 tips and tricks for Dropbox, there are number of hidden secrets regarding this incredible file sharing technology. Keep in touch to stay updated.