XnView is a free image browser, viewer and converter with a  lot of features. It can read more than 400 file formats for both images and video, used across different platforms like Windows, Linux and Mac. It can be used to view, organize, convert graphics and photos files or to create slide show, contact sheet, HTML pages, etc.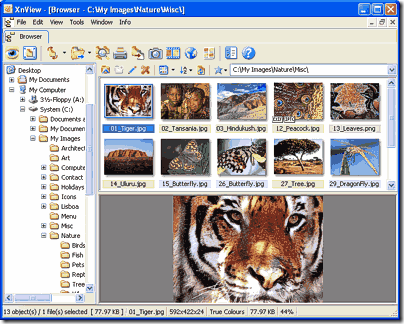 Besides popular formats like  JPEG, TIFF, GIF, BMP, AVI, MPEG, and Quicktime  it can also  read older formats such as targa (TGA) and supports 44 languages. XnView can handle other  tasks such as scanning (built-in TWAIN support). The developers thoughtfully  included handy screen capture and slide show  features. Metadata embedded  in  images (such as EXIF)  is shown.
You can also view a histogram of  the  image. I like the customization of menus and extensibility of  the software  through plug-ins. It can perform operations like auto crop and  resize, auto contrast, auto brightness, and add a 3D border and also can handle batch operations very quickly.