WebReader offers you with all the features that you are looking for in a desktop client. From the subscribing RSS feeds to managing all you feeds in an organized manner, this newsreader or aggregator is one easy and amazing way to handle you feeds
This RSS Reader organizes all the feeds in folders and pops you with alerts at the bottom of the screen whenever there is any kind of changes in the blogs, websites that you have subscribed.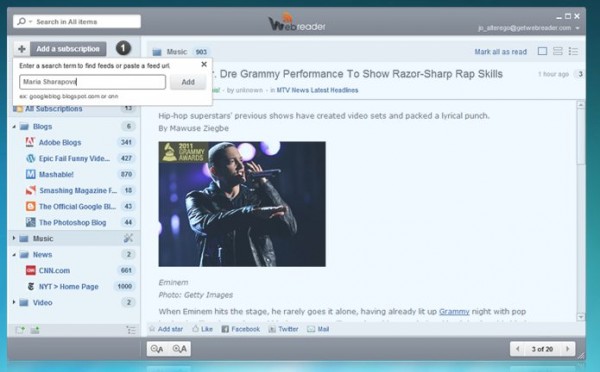 Searching for things on WebReader is very easy and efficient as it lets you filter your searches based on number of parameters like date, folders etc.
Using this free desktop client for Google Reader you can easily share posts via via email, Facebook, Twitter and other social networking sites. In order to make the user comfortable, the designers of WebReader made sure that it gives you with the feel of Google Reader.
So its not just the visuals which make it a great RSS reader, as the overall package WebReader can be termed as one of the best desktop RSS client on Internet. And the fact that it is compatible on Windows, Mac and Linux makes it more powerful.