As a tech blogger I understand the fact that free Parental Control software is one of top searched freeware. Internet has become vast, so as a responsible parent, it becomes necessary for you to know what your kid does on computer when you are away.
Yes, you can sit and talk to them, but monitoring becomes equally important in order to see if your kid is listening to you or not. I have tried number and reviewed number of free Parental software, and Verity Parental Control is one the best I have ever come across.
Before I tell you more about this free monitoring tool, I would like to mention a fact that it is so good that it can compete with many of the paid programs of similar kind.
Verity Parental Control is a very lightweight and one would not even notice the moment when the screenshots are being taken. There are three features that this parental control program offers which make it a complete and full fledged monitoring system.
Once this program starts functioning, it would throw up a message on your screen saying, your activity is being logged and screenshots are being taken. May be this warning itself would stop your kid from doing things he is not supposed to. But if does not, then this tool would let you know things he has been doing.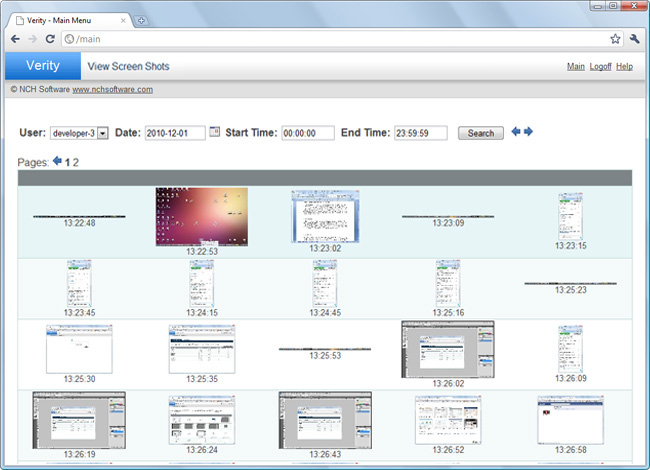 The most highlighting feature of this program is that it is easy to use. You need not Google questions or do any research to use this tool to its potential.
Verity Parental Control captures screenshots at regular intervals which could be after every 5 seconds or 5 minutes (you can choose the time interval). In addition to that, you can customize this child monitoring program in a way that it captures the screenshots of selected programs only like chat clients, etc.
So you can customize the screenshot taking mechanism of this program such a way that it fulfills your needs. Next is its limit setting feature. You can limit the usage of software and tools using this program.
It implies, you can restrict your child from using certain set of programs. Or you can even set the limit to the time till which a program can be used after which it would be closed automatically showing a display message that you have been restricted to use this program.
If your child tries to close this program from the taskbar, it would disappear from there but it would still continue running in the background.
Next is its logging features which actually logs each and every action performed by your kid. This is a fool proof feature as your kid cannot delete the logs from the computer. And whats recorded would stay there until you want them to be deleted.
Using these three features, you can very well monitor the things that your kid does on the computer. Once you start using it, you would realize that it is surely one the simplest parental control program available.
Try it and let us know how successful you were in monitoring your kids activities on computer.
Download from here.