Have you ever faced those annoying error messages that read Cannot delete file: Access is denied or The file is in use by another program or user? or There has been a sharing violation or The source or destination file may be in use or Make sure the disk is not full or write-protected and that the file is not currently in use.
These errors generally occur if a file you are trying to access is currently in use by a program. The error message is to remind you to shut it down or close the file before trying to modify,edit, deleting the file. However, sometimes in spite of closing it, Windows insists that the file is still being accessed and doesn't allow you to do anything.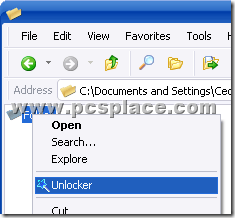 Unlocker is a little freebie software simply unlocks the file/folder access restrictions and allows you to modify it, you can delete, rename or move it any way you please. It is a surprisingly easy to use application; all that one needs to do is
Right-click the file or Folder,
select 'Unlocker', and  then
Select the lockers that are preventing the file from being accessed after which you need to choose the action.
The program helpfully displays the reason why your file is locked. In some extreme cases, Unlocker can also remember and dutifully unlock a file or folder after a reboot.
Note: Unlocker cannot circumvent administrator privileges (so be sure you are working in administrator mode). Vista users will need to temporarily disable UAC.