If important documents or files are accidentally deleted, Don't panic as the Windows operating system's file system in such a way that it doesn't physically remove the file unless another file overwrites its data in the storage space. You can recover and restore deleted files using a simple tool.
Undelete Plus retrieves deleted files, and its main attraction is that it can be run from a USB stick or a CD. You can restore files from Laptops Computers, PCs, memory cards, Flash Drives and Cameras. This means that the missing files won't be overwritten since there is no installation process. Get it here.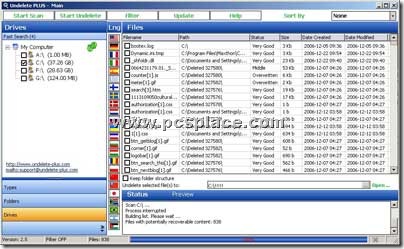 The menu is easy to understand. Just select the corresponding hard disk on the left panel and click 'Search'. The search process takes some time depending on the memory size viz 30 minutes for a 250 GB hard disk, which is still better than having to lose the data. The search results are displayed in the main window with a 'Status' tag displayed with every find. Unless this tag is 'Very good' you can't successfully restore the file, since parts could have even been deleted, thus making the file irrecoverable.
'Search' also categorizes the files detected according to file type. For instance, only videos will be displayed on selecting AVI. The 'Folder' view is very useful, especially if you remember the directory in which the document was initially located, since it means that you can immediately find it.
Once the files have been found, mark them and set their destination folder using the 'Restore files to' link. We recommend restoring them to a completely different location, such as another partition or an external storage device, so that data is not overwritten during the recovery process. 'Restore' also comes in handy when you accidentally send a file to the Recycle Bin and empty it.